We received this car to test drive for a week. All opinions and thoughts are 100% my own.
There aren't many things that get me excited any more unless they involve fast, loud, or well, it involves my wife, wink wink…nuff said. So needless to say I was like a little kid in a candy store when I found out that we were going to be receiving a brand spankin' new 2015 Mitsubishi Lancer to test drive for a week. The fast part of my fulfillment couldn't have been better met than by the beautiful, dark blue, 4 wheel drive, 2.4 liter, 16 valve, work of art that I have been able to enjoy and wish was mine during this past week.
It literally gives me goosebumps just to sit in it and makes me feel like a teenager again. On that same note it has all the sophistication of any luxury car on the market with its new enhanced design, and its awesome features. I like loud also, but I appreciate that this car has a smooth and quite engine. Then my teenage self takes over again and I find myself cranking the music and base through the Rockford Fosgate 10 or 12 inch sub mounted in the trunk which causes the whole car to vibrate.
This particular 2015 Mitsubishi Lancer comes with premium alloy rims, sunroof, heated seats, steering wheel controls for radio and cruise, touch screen with Bluetooth technology for phone and Sirius satellite radio. My favorite feature by far is the optional 2 and 4 wheel drive button located on the center console. With Utah weather being rainy or snowy a good portion of the year it provides me with an alternative to driving my big bulky gas guzzling truck. Oh and I can't forget to say that it gets 25 to 29 mpg which is actually awesome considering it has a bigger 4 cylinder engine. It gets up and goes with good pep as well as pick up.
The best is for last which is that it is completely key-less. As long as you carry the key in your pocket, it never has to leave your pocket. You can stand beside the car and push a button next to the door handle which deactivates the alarm and unlocks the door you are standing in front of. It also has buttons on the passenger side and on the trunk. Once in the car you just have to turn a built in ignition switch which starts the car. Once you leave the car and shut the door you can simply push the button again (as long as the key is on your person or nearby) and the car will re-lock and set the alarm. How exciting is that. No need to ever take the key out of your pocket. Oh and if you do accidentally lock your key fob in the car, all you have to do is push one of the buttons to get it back out. No More Locking Your Keys In The Car!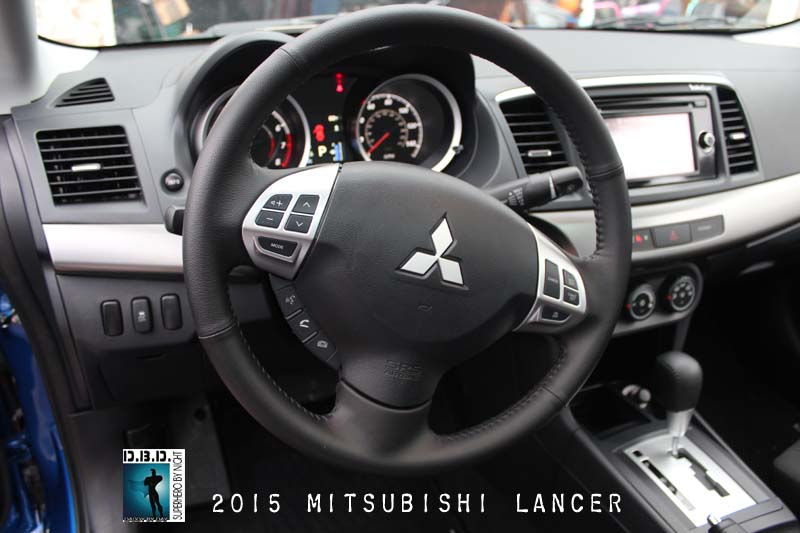 Here some of the specs of the 2015 Mitsubishi Lancer:
148-hp, 2.0-liter MIVEC engine
5-speed manual transmission or available Continuously Variable Transmission (CVT)
Electric Power Steering
Anti-lock Braking System (ABS) with Electronic Brakeforce Distribution (EBD) and brake assist6
Keyless entry with panic alarm feature
Anti-theft security alarm system
Auxiliary RCA input
ECO Status indicator light (CVT/SST only)
To see the rest of the Specs and Details of the 2015 Mitsubishi Lancer click here.
Overall I'm extremely pleased with how well the 2015 Mitsubishi Lancer performs.
Thanks to DriveSTI for making this happen. We received no compensation for this review. All opinions are 100% our own.